5-year courses in eleven engineering specialities
The teaching given at INSA Strasbourg is intended to prepare the student to become an expert in his or her field. The INSA Strasbourg student is trained to listen and to keep an open mind. To analyze, but also to decide and act.
To enable students to achieve this profile, the training teaches them the knowledge and the methods they need for their area of expertise (civil engineering, mechanical engineering, etc.).
At INSA Strasbourg, students choose their specialization in their second year, which means they are immersed in their future professional milieu very early on.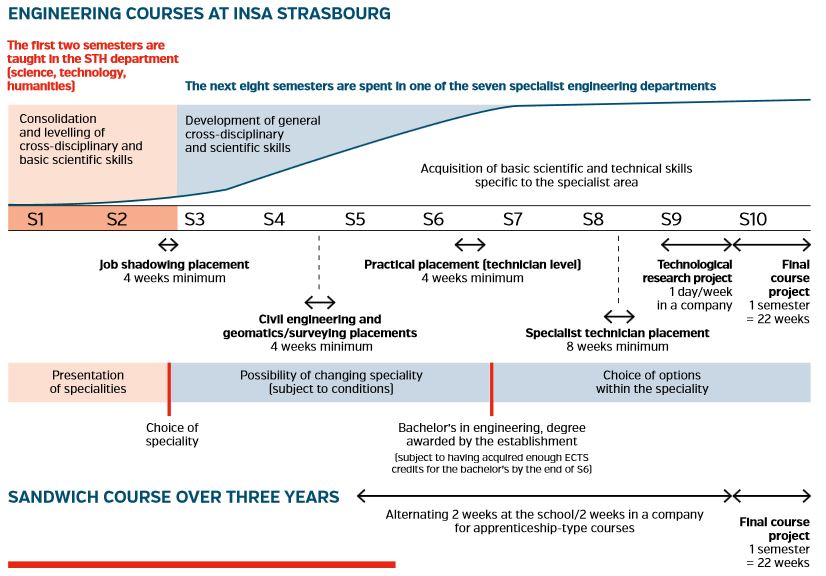 Open-mindedness
The training course fosters an open-minded attitude and receptiveness in students, in particular thanks to the mandatory period spent abroad to develop a sense of "interculturality" (every student must spend at least three months abroad to validate the diploma) and to the elective modules where the student can opt to study something outside his/her specialist area.
The dual architecture-engineering course and the joint engineering diploma-master's (preparation for research), inter-specialty seminars and the discovery and observation placement completed in Year 1 (shopfloor placement) also encourage openness and the ability to listen.
Active teaching methods
The teaching at INSA Strasbourg trains students to take decisions and act thanks to active teaching methods, based among other things on the use of case studies and projects, every semester from Year 2.
The internships completed in years 3 and 4 ("application placements"), technological research projects (PRT), supervised studies carried out on behalf of partner companies) and final course projects (PFE) completed in the final year all place them in situations where they have to produce, decide and act.
INSA Strasbourg engineer's skills area
Relevant element in the training
Preparing to become an expert in his/her field
The core academic training
Being open-minded and ready to listen

International mobility

Elective modules

Dual architecture-engineering course

Master's degree

Discovery and observation placement

Knowing how to take decisions and act
Active teaching methods (case studies, projects)

Internships (application) in years 3 and 4

Technological research project (PRT)

Final course project (PFE)
Project-based learning
The project is a core part of the training of future managers, architects or engineers. It is the medium for students' reflection and research. It enables them to pull together and synthesize all the theoretical knowledge they have acquired on their architecture or engineering course.
Projects may be on a theme specific to their specialization or they may be cross-disciplinary subjects that give them the opportunity to work in a group with students from another specialist area.
The drone project is an example of an interdisciplinary project. Since 2002 this project has brought together students from the mechatronics and electrical engineering specializations, and when needed, mechanical engineers, surveying engineers, and others.
You can find more information on the drone project on two INSA Strasbourg blogs: mechatronics blog-drone page and electrical engineering blog.
Internships, a highlight of the course
Internships take place in between periods of academic training and can be completed abroad. They provide students with a lived experience and the opportunity to acquire knowledge, know-how and professional culture.
They also help to improve the business world's knowledge of higher education, and vice versa.
These internships are also a source of exchanges with different socio-economic milieux, thereby enabling skills transfers.
Internships with an increasing degree of responsibility
at the end of the 2nd semester: a job shadowing placement, for a minimum of four weeks
for students in civil engineering and surveying engineering: at the end of the 4th semester, a  placement, for a minimum of four weeks.
at the end of the 6th semester, a practical placement, for a minimum of four weeks,
at the end of the 8th semester, an internship in a supervisor or technician's role, for a minimum of eight weeks.
The technological research project (engineering students only)
During the entire 9th semester, the student works on a technological research project (PRT) one day a week, in a company or laboratory (42 hours of training).
Final course project
The PFE takes place over the 10th semester, in a company or laboratory. It lasts about 22 weeks and ends with a viva.
Sandwich courses
These courses last three years. They are open to young people under the age of 30 with a BTS-DUT (2-year vocational training certificates) or bachelor's degree wishing to pursue their studies after three years of professional experience, on an apprenticeship scheme. Sandwich course students are awarded the INSA Strasbourg diploma in partnership with the ITII Alsace and with Polyvia formation for the plastics engineering sandwich course (50% of the training time is spent in the company).
5 engineering specialties:
---