Partnerships and sponsorships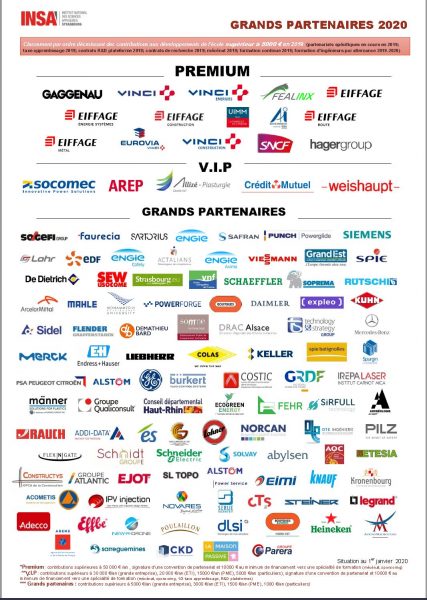 Different types of partnership with INSA Strasbourg
Training partnership agreements (or training/research) (1)
Payment of apprenticeship tax (1)
Cooperation agreements with the training and R&D platforms: technological research project (PRT), preliminary design assistance scheme (OARA), final course project (PFE), R&D studies, etc. (1)
3-year year group sponsorship agreement (one specialization): €10,000 a year (1)
Patronage agreement (training and/or research), social , bursaries, diversity and disability grants, support for the development of the training and R&D platforms, in-kind donations, etc.) (1) (2) (3)
Research collaboration or service agreement (4)
Continuing education agreement (5)
Engineer training through sandwich courses (apprenticeship, continuing education schemes) (6)
Sponsoring of student clubs or associations (BDE, AEP, technical field trips, etc.) (7)
(1) managed by INSA Entreprises
(2) DeutchINSA project, Inventive Design chair are managed in partnership with the foundation of the University of Strasbourg
(3) the patronage agreement of the foundation INSA are managed by the fondation INSA
(4) contracts are managed by the technology transfer accelerator company Conectus Alsace. Some hybrid research and training collaboration contracts are managed by SATT Conectus Alsace and INSA Entreprises.
(5) continuing education agreements are managed by the continuing education center at INSA Strasbourg
(6) engineer training through sandwich courses is managed in partnership with ITII Alsace
(7) the sponsoring of clubs and associations is managed directly by the students
All other agreements are managed by INSA Entreprises.
How to become a partner of INSA Strasbourg and other information
---